Post by ♥~KarinaKay~♥ on Nov 14, 2008 2:34:23 GMT -11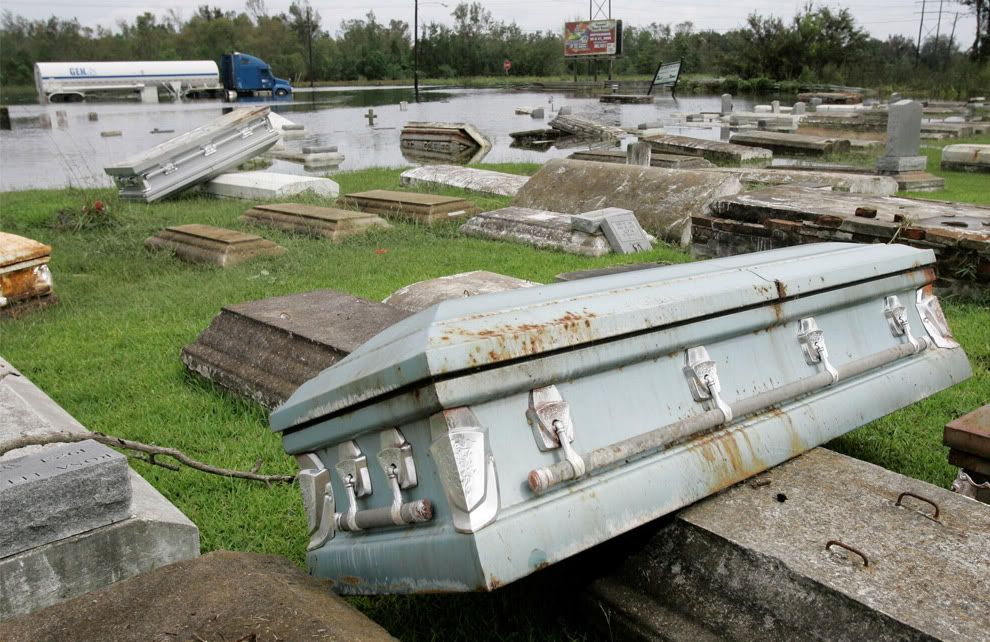 In the marsh of Cameron Parish LA- Joe Johnson craned his neck from the airboat as it circled a patch of brown marsh grass. The runaway coffin wasnt where it was supposed to be. He pulled up to some rocks and killed the moter and hoped out. After a few minutes of searching thru the tall reedlike grass he flagged down two fisherman to ask if they could take him along the shoreline to look for a casket.
Beyond the usual dismall rebuilding hurricane Ike left another grim task when it struck. Its thirteen foot storm surge washed an estimated 200 caskets out of their graves, ripping thru most of Cameron Parish's 47 cemeteries and others in the southwest Louisiana and coastal Texas. Some coffins floated miles into the marsh.
At Hollywood cemetery in Orange Texas Ike unearthed about 100 caskets. Dozens more were disgorged in hard hit Galveston.
Officials in coastal areas have long struggled with interrring the dead as caskets buried in low-lying areas are susceptible to being belched up by floodwaters. Some areas, most notably New Orleans house the dead in above ground crypts to keep them from drifting away in storms.
For many of the dead forced up by Ike it wasnt their first disturbance. About 80 percent of the caskets in southwest Louisiana displaced by Ike were rousted by Hurricane Rita just three years earlier, said Zeb Johnson, the Calcasieu Parish deputy coroner who's headed casket recovery efforts for Rita and Ike.
Of the caskets ejected by Rita in sept. 05 335 were found and reburied, he said 18 were never found.
"Our mother came out for Rita, and now she came out for Ike", said Debra Dyson, a commercial fisher whose house in Cameron was destroyed by Ike.
Dyson said coffins holding her brother-in law and cousin also were heaved out by Rita. Ike was worse- the storm thrust out caskets containing her mother, brother in law, cousin, niece, three uncles and two aunts.
The one containing Dyson's mother floated to the same spot it came to rest after Rita, 22 miles from the cemetery. Only this time it didnt take nine months to find it.
" Its hard to loose your home but the first stop you make is that cemetery just to make sure they're still there, and its heartbreaking when there not." said Marilyn Dyson Elizondo, Dyson's sister who lives in Dayton, TX.
Zeb Johnson helms a team of two employees, volunteer boat pilots and state prisoners to search houndreds of miles of marsh with loaned equiptment and haul coffins back to shore. the work is backbreaking, with caskets weighed down by mud in swampy areas teeming with alligators and snakes and the stench of rotting Marsh gas. But it has to be done.
"It's a job that has to be done," said Joe Johnson, a funeral director and embalmer from Lake Charles who is not related to the deputy coroner.
Joe Johnson's half-hour ride with the fishermen didn't turn up the pink casket reported to the coroner's office, like so many other tips that don't pan out. An hour later, however, he returned with another coffin found in thick grass near a canal bank.
A hole was drilled into the silver metal container to drain out marsh muck and lighten the load for the airboat. Prisoners pulling the casket from the boat tipped it again to empty out more of the fetid water.
The coffin was trucked to the city coliseum in Lake Charles, where the Federal Emergency Management Agency was providing refrigerated trucks to hold caskets until reburial arrangements could be made.
"It's a slow process," Zeb Johnson said.
The Calcasieu Parish Coroner's Office is footing most of the search and recovery bill, which hasn't been tallied. But reburying the dead is estimated to cost as much as $100,000 on top of the recovery costs, with much of the money needed for new caskets and vaults. Zeb Johnson wasn't sure who'll cover that price tag, so he wasn't sure when reburial could begin.
More than 140 coffins had been found by Wednesday, and about 20 others that didn't stray far from their burial sites were quickly reburied. Zeb Johnson doesn't expect to find all of the two dozen or more that remain missing.
"The first day we found caskets that had floated 30 miles from their cemeteries," he said. "You just have caskets floating out in the marsh. At least seven of these caskets ended up in Texas, kind of like boats, they just got out in the currents from the high waters and carried them to Texas."
The identification work in many instances is easier this time around. Bodies found after Rita were tagged with special markers, as were the silver metal coffins in which they were reburied. The coffins include a scroll with the deceased's name, where they were buried and other information.
A few families are considering reburials on higher ground. Cameron Parish's government has proposed requiring deeper burials.
Elizondo, whose family awaits word on the missing Dyson caskets, said her brother was buried in January in a deeper vault than those that housed her missing relatives. Ike didn't disturb her brother, so Elizondo wants to rebury her mother the same way, though it is more expensive.
"It's worth it. That way we have the peace of mind that mom won't be gone again," Elizondo said. "We've even offered to do the backhoe ourselves. We just don't want her coming back up again."
blog.myspace.com/index.cfm?fuseaction=blog.view&friendID=164878431&blogID=448925977